Designation
Chairman, Sri Jayewardenepura General Hospital
Qualification
MBBS (Colombo), MSc Med Admin (Colombo), FCMASL
Dr. Nihal Jayathilaka assumed the prestigious position of Chairman of Sri Jayewardenepura General Hospital with a vision of increasing service quality, user-friendliness and affordability of services using patient centered and innovative measures. He possesses a wealth of experience following service at various areas of National Health System of Sri Lanka. He graduated as a doctor from Faculty of Medicine, University of Colombo and completed MSc in Medical Administration from Post Graduate Institute of Medicine (PGIM) of University of Colombo to become a qualified medical administrator. He is a life member of the Sri Lanka Medical Association and College of Medical Administrators of Sri Lanka, and Fellow of the Sri Lanka College of Medical Administrators.
As Secretary, Ministry of Health, Dr. Jayathilaka was responsible for overall administration and financial control of the ministry; chaired the National Health Development Committee; chaired the National Steering Committee on Family Health; country-wide Health System Development and Quality improvement; health policy formulation and revision; establishing good inter-ministerial collaboration to facilitate implementation of health and health related programs. During his tenure as Additional Secretary Health (Medical Services) he ensured enhance healthcare delivery in tsunami affected areas & to re-establish infra-structure and health services and also monitored of health care delivery in conflict affected areas and border areas ensuring provision of uninterrupted services during war times. He also reviewed the progress of foreign funded projects and carried out close monitoring of the status of MDG target achievement in Sri Lanka.
As Provincial Director of Health Services of Western Province he managed Health Services in a highly populated province with complex situations and strengthened human resource and infra-structure for health care delivery in the province and as Regional Director of Health Services he managed Health Services in one of the districts (Kalutara) of the Western Province. As Medical Officer of Health he functioned as a preventive health care manager and provider in rural community settings. He also has experience in various fields other than healthcare. He is a former Secretary/Ministry of Provincial Councils & Local Governments, Sri Lanka and was responsible for the local government system and the provincial council system of the country and acted as the focal point to coordinate between the provincial councils and the central government and for quality improvement of the entire provincial council and local government systems.
Dr. Jayathilaka has also served as chairman for State Own Enterprises (SOEs) such as Sri Lanka Rupavahini corporation (SLRC), Employees Trust Fund Board (ETFB), and Sri Lanka Standards Institution (SLSI), Sri Lanka Institute of Local Governance and Loan Development Fund (SLILGLDF), and also has served as board member of Lanka Hospitals (LH), Ceylon Electricity Board (CEB), Sri Lanka Institute of Development Administration (SLIDA), Sri Lanka Transport Board (SLTB), Sri Lanka Tourism Development Authority (SLTDA), Urban Development Authority (UDA) and Water Board (WB).
The experienced and courageous leadership of Dr. Jayathilaka has empowered Sri Jayewardenepura Hospital to strive to achieve its vision of being the leading tertiary healthcare provider in the South Asia in year 2030 and mission of maintaining exceptional, safe, ethical, and quality standards, while offering cost effective healthcare solutions with modern technology.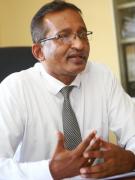 Designation
Director, Sri Jayewardenepura General Hospital
Qualification
MBBS, MSc (Med Admin) MD (Med Admin) MCMA (SL), DIPPCA. PH210x (Harvard), Dip in IT Management (Alison), MAPCR (USA), Dip in EU, Public Procurement (Belgium) Consultant in Medical Administration
Dr Rathnasiri A Hewage is a Medical Doctor qualified from University of Ruhuna, Sri Lanka and completed his internship in Sri Jayewardenepura General Hospital. He is a Consultant in Medical Administration. He started work as Divisional Director of Health Services of Balangoda. He completed his MSc in Medical Administration in 2002 and MD in Medical Administration in 2009 at Post Graduate Institute of Medicine, University of Colombo. He completed is post MD training at Health Science Department of California State University Long Beach, CA, USA. He has experience as Performance Improvement fellow at Queen of the Valley Hospital, West Covina, CA, USA. He was the CEO/Director Lady Ridgeway Hospital for Children (LRH) from 2011 to 2014 after which he became the CEO/Director of The National Institute of Nephrology Dialysis Transplantation of Sri Lanka until he became the Permanent Director/ CEO of Sri Jayewardenepura General Hospital.